Vitality can be described as the will to survive, to grow and to develop. Employee vitality is attributed to people who are lively, enthusiastic and spontaneous.1 In short, vital people are those who feel good, both physically and mentally. Mental and physical health are inextricably linked to each other.2
vi-ta-li-ty (n.)
1 liveliness, animation
2 ability to survive or endure
How to create a good work-life balance
The importance of vitality
Vital and motivated employees form the foundations of a healthy organisation. Vital employees are less often sick, more productive, feel committed and are therefore an important factor in organisations' success. An employee is vital if there is a good balance between stress and energy. An employee will feel good at work and will also stay healthy and vital. If an employee does not feel vital, the result can be that he does not feel good at work either. After all, you need energy to be able to work. Those who feel good and healthy can work longer and with more enjoyment.
Employees' vitality has (through motivation) an indirect influence on the degree of employee engagement. If an employee has problems at home, does not feel good physically or is unable mentally to deal with certain situations, his/her vitality will be negatively influenced. He/she will have less energy to devote to his tasks and will have more trouble maintaining the drive (motivation) to execute all his tasks as required.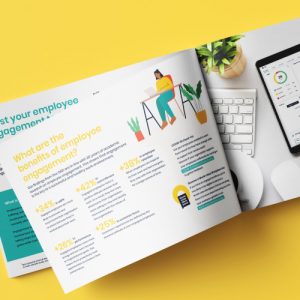 Global Employee Engagement Index™
A comprehensive overview of employee engagement with benchmarks from 57 countries with essential lessons for your HR strategy .
Download
Employee engagement demands a certain degree of physical and mental energy, strength and willingness.If your employees are mentally and physically drained by their work it is impossible for them to be engaged. They are already exhausted just from carrying out their daily tasks, and will not be able to go that extra mile to contribute to your organisation's success.3
Employees' vitality also influences their motivation. The primary link is simple. The more energy employees have, the more energy they can dedicate to their work. In addition, motivation – and specifically intrinsic motivation – has a positive effect on vitality. Intrinsic motivation relates to action and is guided by a feeling of satisfaction and fulfilment. Employees who are intrinsically motivated enjoy their work and will generally suffer less often from mental and physical complaints, such as burnout.
Furthermore, vitality will help combat the incidence of absence. If employees are unhappy mentally or physically, they are more likely to call in sick. You have to feel good in order to be able to work, otherwise it is more or less impossible to continue being productive.
Areas of concern
Our latest global employee survey revealed that 65% of employees responded positively to the statement I experience a good balance between my work life and my private life. Of the 65%, just 18 % strongly agreed and 47% agreed.
Just 65% of employees experience a good work-life balance
Industry analysis reveals that employees in the service industry, automation and production experience some of the worst work-life balance. At the other end of the scale, employees in administration and support, and business services experience the best work-life balance.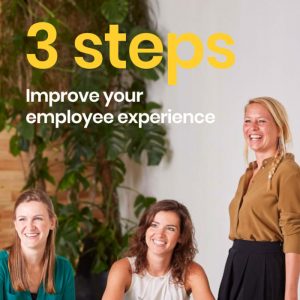 Employee experience in 3 easy steps
Learn the best ways to improve the employee experience in your organization with these 3 easy-to-follow tips! Get your copy today!
Download: employee experience tips
How to help employee vitality and work-life balance
If your employees atre struggling with their vitality and work-life balance, the following six points can be implemented by managers and HR to help employees:
1. Check with employees on a regular basis and keep in regular contact with them. It may sound simple, but small and informal meeting provide managers with the perfect platform to create an open dialogue around the issue.
2. Work on creating an environment of trust. In doing so, employees will be more forthcoming about any vitality or work-life issues.
3. Ensure that employees' personal situations are taken into account. A good example is offering employees more freedom when their personal situation requires, which in turn will create the flexibility required for a good balance.
4. Offer employees specific training courses. Whilst employees have a great deal of influence of their work-life balance, they may need help in creating a healthy work-life balance.
5. Create a work pressure meter in the office. Having a visible gauge on how employees are doing really helps to create awareness about the issue and furthermore, keeps the topic out in the open.
6. Consider offering employees more flexible working hours and the possibility of working from home from time-to-time. An increase in freedom will enable employees extra mobility so that unexpected occurrences like a child's illness or dentist appointment, doesn't become unnecessarily stressful.
References
Ryan, R.M. and Frederick, C. (1997), On Energy, Personality, and Health: Subjective Vitality as a Dynamic Reflection of Well-Being, Journal of Personality, 65, 529-565
Fox, K.R. (1999), The Influence of Physical Activity on Mental Well Being, Public Health Nutrition, 411-418
Kahn, W.A. (1990), Psychological Conditions of Personal Engagement and Disengagement at Work, Academy of Management Journal, 33, 692-724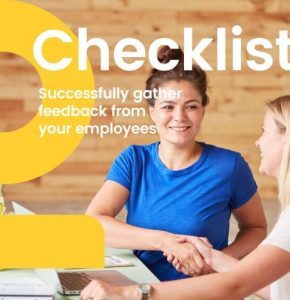 How to gather feedback from your employees
The step-by-step guide to creating your employee engagement survey.
Download