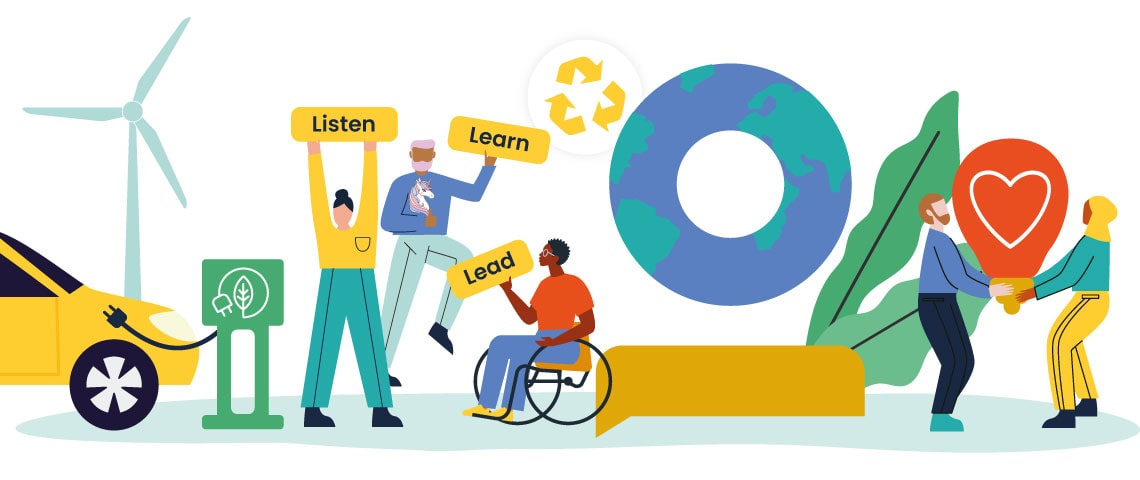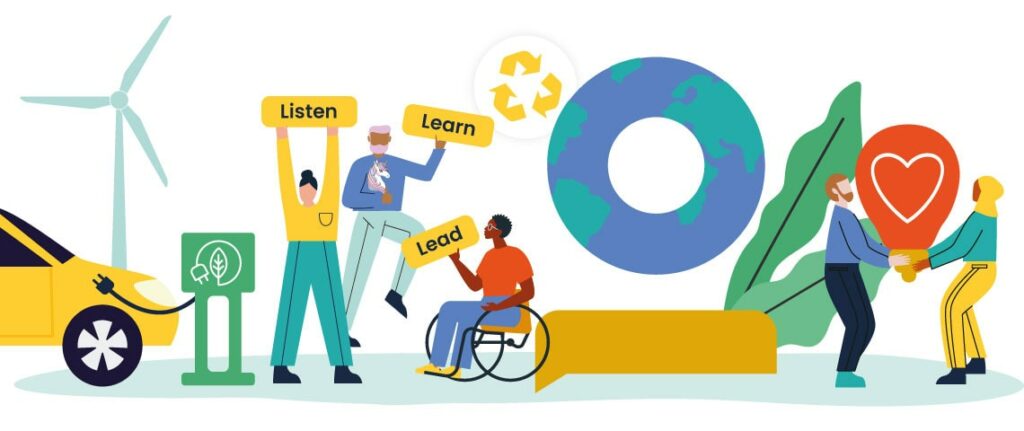 We're on a mission to improve the (working) lives of millions of people
Our platform is designed to empower employees. With our employee surveys, an organization's people can inform business decisions and policies that increase engagement.
But our dedication to being a responsible and positive force in the (working) world doesn't stop there. We at Effectory are on a mission to improve ourselves, increase the positive impact we make, and help secure a bright future for all.
Future-focused
Following a number of workshops and conversations with the sustainability working group, composed of Effectory employees from across the organizations, we have identified ourselves as being related and committed to six of the UN's Sustainable Development Goals (SDGs) indicators.
Climate Action
Responsible Consumption and Production
Decent Work and Economic Growth
Good Health and Well-Being
Reduced Inequalities
Gender Equality
The UN's own guidance and suggestions for their SDGs focuses mainly on the national or international level. We are working to develop policies which mean we can play our role in these SDGs at a smaller scale.
We think about these topics in two different ways:
How can we help our clients improve themselves in these areas?
How can we improve internally when it comes to these topics?
Say hello to MEX, our CSR pledge
Our commitment to positively impact these SDGs falls under our broader Corporate Social Responsibility (CSR) framework. In this framework, we have three columns and three corresponding promises. These are: Mission, Environment, and Xenia. Or MEX, for short.
Mission
We promise to: improve the working lives of millions of people.
We do this through our core business proposition. Our success is based on always increasing the amount of organizations, and thus employees, that our platform and expertise helps to empower. In addition, on a yearly basis we provide one NGO, non-profit or sustainability driven organization free access to our platform.
Environment
We promise to: take care of our planet.
We aim to do this by minimizing our footprint by always making decisions with the environment in mind. We aim to reduce our own footprint and support organizations with that same goal in mind.
Xenia
Xenia is an ancient Greek concept of hospitality. It inspires our promise to: making Effectory and workplaces all over the world welcoming for everybody.
Transparency
Our short- to medium-term goal is to set up a way in which these three pillars can be reported on transparently, so that Effectory employees, customers and the public can see how we are performing for each of them. We expect this reporting to be done on a quarterly basis.
Effectory's people are dedicated to the cause
We have a working group comprised of individuals from throughout the company. These efforts are included in its members' regular working hours.
The working group is divided between the three MEX columns, inside each of which are the following points of focus:
Regulations & Product
Aid & Partnerships
Activities & Campaigns
There is an additional "Oversight & Promotion" pillar in which Budget, Data & ESG and Copy, PR and Design are distributed to relevant working group members.
Our ongoing CSR policies
We already have a number of policies and programs in place that are related to our CSR Pledge.
Lunch: we provide lunch to staff working from the office. The default option is vegetarian, which has proved to dramatically cut down the proportion of meat consumption.
Volunteer Day: each Effectory employee is given an additional day off work per year to volunteer for a cause of their choosing.
Free Survey: each year, we provide an NGO or non profit the opportunity to perform our engagement survey for free.
Cars: our small fleet of vehicles are all electric. We also prioritize the use of public transport (whenever possible), trains over planes, and reimburse our employees so that they can do so too.
Recycling: we have recycling bins throughout our office and we also have a food recycling program in place so that food never goes to waste.
Working Group: there is a working group comprised of staff from throughout the company meeting regularly and collaborating to ensure that CSR remains embedded in Effectory. This working group is open to any colleagues to wish to work on this subject.
MEX Reports
Here you can find our 'MEX' reports, starting from Q1 of 2022.
MEX Report Q1 2022
MEX Report Q2 2022
Play a part in positive change
Everyone in Effectory is welcome to make suggestions, join the working group, or nominate themselves to be a member of the works council (in the Netherlands), in order to help stimulate the sort of ideas that will help us realize our goal of improving the (working) lives of millions of people.
You can check out our open positions to see how you can become part of this mission.