Employee listening is incredibly important when it comes to creating a positive work environment and achieving business success. It's been demonstrated that listening to employees and acting on their feedback engages them. It also opens organizations up to innovative thinking.
Here, we explore the different types of employee surveys. We also outline the practical steps HR can take to make sure employee listening boosts company success.
The Benefits of Employee Surveys
When properly executed, employee surveys show employees that their organization values their opinions and is committed to improving corporate culture. When employee surveys allow for anonymity, workers are given a safe way to express their opinions and experiences. Surveys provide an opportunity for employees to voice opinions that they otherwise may not have felt comfortable sharing directly.
Employee surveys can also provide diagnostic people analytics, enables organizations to improve retention, employee experience, and overall business outcomes. They are proven ways to track employee engagement, job satisfaction, and employees' skills and competencies. Companies including Panasonic and The Lego Group have used people analytics to track and improve diversity, equity, inclusion, and belonging (DEI&B) within their organizations.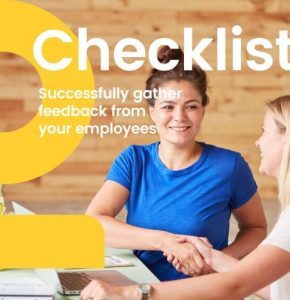 How to gather feedback from your employees
The step-by-step guide to creating your employee engagement survey.
Download
The Three Primary Types of Employee Surveys
Before you begin, you'll need to choose the type of survey that's best for your company. Surveys can be implemented in a number of ways.
Digital employee surveys have become the most common option as technology has advanced. This method has many benefits; it's fast and easy, it allows for anonymous answers if desired, it can be submitted instantly and accessed immediately after it's sent, and it stores all answers digitally so you can go back and easily access them whenever needed. Not to mention, digital surveys such as the ones that Effectory offers are paired with an analytic dashboard that can point to trends in employee responses and compares results to benchmarks.
Paper employee surveys. While this style of survey was popular for decades, it has gone out of vogue as sophisticated digital options have become available. They can also be time consuming, as following the completion of paper surveys, the data will eventually need to be digitized in order to track and analyze it.
Hybrid employee surveys combine both digital and paper elements. This approach can be useful for organizations which have both office staff and a part of the workforce which doesn't have as much access to digital tools while at work.
What to Do Before a Survey Takes Place
In order to ensure your survey is successful, consider the following:
What is the goal of the survey? The first question to answer is what you intend to achieve with this employee survey.
Who will create the survey? Establish who within your organization will be involved in the process and determine what their roles will be.
Who is the survey for? It's important to know your audience in order to best accomplish your goals. Knowing who will be taking the survey will help you tailor your questions toward specific responses.
What's being measured? A successful employee survey doesn't just give out praise and criticism. You need to measure how employees feel about their jobs in different areas such as workplace environment, job satisfaction and company culture, then use these results to make decisions about staff development and training programs.
What resources do you require? Make sure you have the necessary resources to implement a successful employee survey.
How will the results be measured? Consider whether your organization will use analytics software to analyze the results and if so, will the process be outsourced or completed internally.
Ask the Right Questions
Once you've established the primary goal of the survey, it's time to craft the questions. In order for the survey to provide useful information to HR and management, the answers that the questions elicit should give the organization clear opportunities for improvement. It's best to avoid open-ended questions, and rather to focus on numerical responses where, for example, employees respond to statements with a numeral indicating whether they agree or disagree with the statement.
Every organization is different, so no two employee surveys will be exactly the same. Still, there are some general questions that are beneficial regardless of the industry and type of organization. Here are examples of some employee survey questions that are universally applicable. They have been formatted as statements that employees can either agree or disagree with:
I am happy day to day at work.
I am likely to recommend working with this organization to a friend.
I often think about applying to work with another organization.
I have access to the right resources and tools to do my job efficiently.
My tasks and responsibilities are clearly defined and achievable.
Effectory's platform provides a range of question sets on important and relevant topics such as engagement, inclusion, and team cohesion. We've designed our questions so that they provide comparable data when performed more than once over time.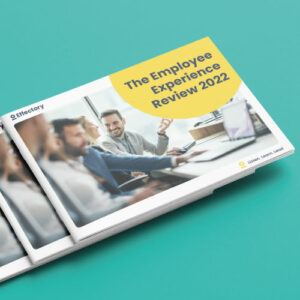 Download the Employee Experience Review
Discover how employees around the world are experiencing different parts of the employee journey and how this affects the employee experience.
Download
Analyzing the data
It's important to not leave a survey project there. Once the feedback is received, HR and management needs to study the data to see how employees are feeling about various aspects of the organization.
Organizations that perform surveys via Effectory's platform can instantly access anonymized results once the surveying time is over. Our dashboard automatically transforms results into infographics and tag clouds so that you can easily browse employee sentiment and get a more in-depth look on certain topics via the open questions.
Our platform also automatically generates tips and highlights points for concern, so that HR is able to quickly identify what needs attention.
Making an employee survey have an impact
Once the data has been collected and analyzed, it's important to indicate to your employees that their feedback is being valued by actually implementing change. Employee listening only works if employees feel as though their thoughts and ideas are being considered. Their feedback can be used to improve company culture.
To show employees that a survey they completed is having an impact, HR and management should clearly communicate next steps and action points.
One of the aspects of the Effectory platform that our users like is that team and pan-organization survey results are made available to everyone who had the ability to answer the survey. This means that employees can be inspired to make a change at an individual level, to complement the changes taking place further up the hierarchy. Teams can also look at their specific results and work collectively to improve issues within the team, but also celebrate their successes and improvements together.
Use Effectory to perform world-class employee surveys
Effectory is Europe's leading provider of employee feedback solutions. We facilitate employee listening programs around the world by offering employee surveys in 35 languages. Our platform provides intelligent, interactive reporting and integrated action planning. Effectory's experts provide dedicated support throughout the process. They ensure you get the most out of a feedback program – and never get stuck.
Bart Vosmer is a Customer Success Manager at Effectory. He's one of many Effectory specialists who work with organizations to ensure they're getting the most out of employee feedback. Effectory users have a Customer Success Managers assisting from the very start, making sure the process runs smoothly.
When it comes to performing the surveys, Bart says: "Launching a survey is literally a few clicks away. An Effectory user has to update their organizational and employee data in MyEffectory, but this can be done automatically if they make use of an API or one of our integration partners." He continues, "our customers have 24/7 access to our question library. Most involve relevant internal stakeholders in the process of forming the questionnaire which they'd like to perform. After that, the organization selects the start and end dates/times of the survey, the participant groups, and the question."
Bart says that, last year, the average response rate to engagement surveys he helped Effectory users perform was 75%. This is much higher than the average for employee survey response rates. Following the survey, organizations like to take a deep dive into the results with the help of "crossings." These offer them the opportunity to filter results based on specific characteristics like gender, tenure, or age.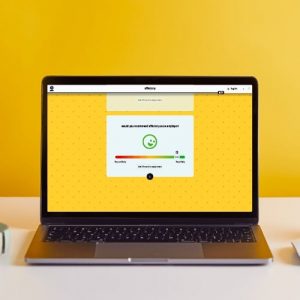 Book a free demo. See our solutions in action.
Effectory is Europe's Leading provider of Employee Listening Solutions. Schedule a product demo and discover how to enhance your employees' engagement.
Demo request