Here is what organizations were asking their employees over the past twelve months.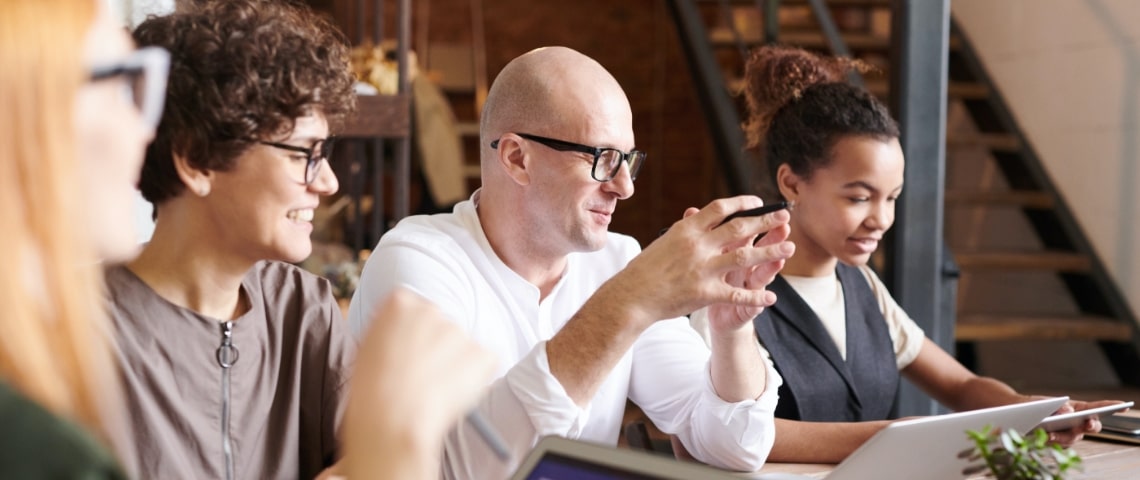 //= $primaryVisual['url']; ?>
Effectory works with HR teams around the world. We help them improve the employee experience and boost engagement. We do this by empowering them to collect and act on employee feedback in a strategic way. 
We've looked at 2022's most popular themes, both overall and by industry. This gives you an idea about what organizations have been investigating over the past twelve months.
Most popular HR themes in 2022
Based on our data, drawn from HR teams around the world, these were the most popular employee survey themes in 2022:
Engagement
Retention and Turnover
Employership
Psychological Safety
Role Clarity
Some of these themes might be obvious, a few might now be. Let's take a closer look at them.
Popular employee survey themes
Employee engagement continues to be a key concern for organizations. This is not a surprise given its influence on productivity, retention, and customer orientation. The score shows how connected employees feel with the organization and how enthusiastic they are about their jobs.
Retention and turnover surveys include questions regarding their plan to stay with their organization for the near future or someone's intention to leave their job.
'Employership' is a concept we've developed to analyze to what extent organizations are providing their employees with a work environment where they feel at home and accepted. High scores on employership mean employees feel part of a community, appreciated, inspired, and cared for.
Employership is one of the core themes organizations must perform well on in order to be labelled a World-class Workplace.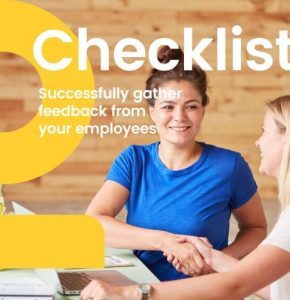 How to gather feedback from your employees
The step-by-step guide to creating your employee engagement survey.
Download
Role clarity refers to how clear each employee's and team's responsibilities and priorities are. This includes what they should deliver or produce, their way of working, and what they are expected to do to contribute to the organization.
An organization's score on psychological safety shows the degree to which its employees are comfortable sharing their opinions with their colleagues and managers, and whether giving and receiving feedback is encouraged.
Most popular employee survey themes by industry
Those are the five most popular themes overall. Now let's look at the most popular survey themes by industry.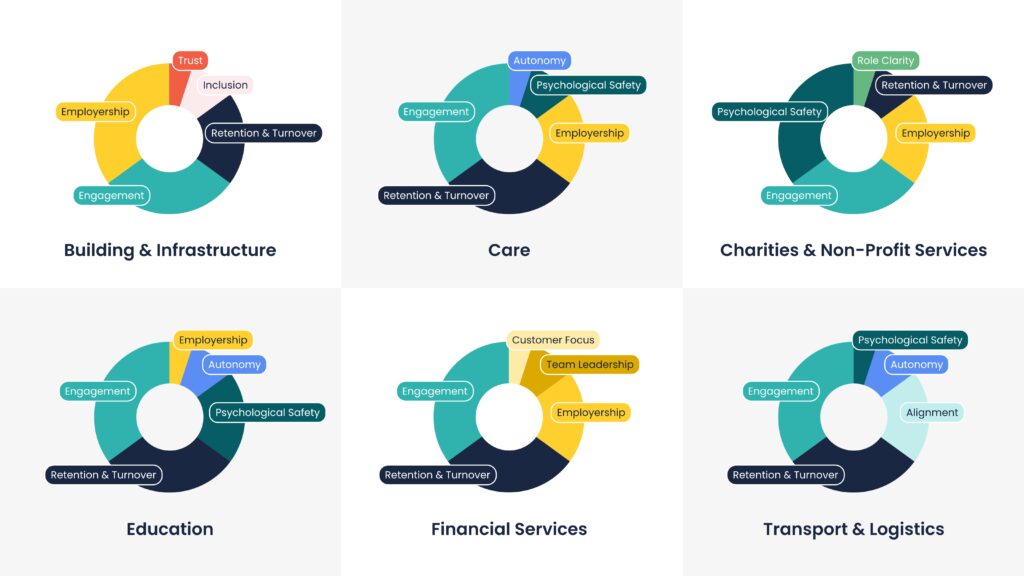 Are you asking your employees the right questions?
As you can see, themes such as engagement and retention are typical themes for HR to be interested in in any sector.
Some sectors are more concerned about analyzing levels of psychological safety than others. Only a few are asking about things such as autonomy and customer focus.
This overview might inspire you to ask questions on these topics to your employees. What are themes that your organization doesn't have a good overview of? Performing surveys through Effectory allows you to collect quantifiable and comparable data on some of today's most important topics. The Effectory platform features question sets on all the themes mentioned above – and many more.
Acting on feedback improves performance on key themes
Our data also reveals that employees who say they feel that their organization acts on employee surveys are more likely to score highly on key themes.
Organizations whose employees give them a high score on acting on feedback perform 22% better on engagement compared to organizations whose employees don't feel like their organization takes feedback seriously.
Organizations who respond to employee feedback also perform:
18% better for retention
22% better for team productivity
26% better for client focus
They are also rated 40% higher when it comes to employership compared to organizations with lower scores on acting on employee feedback.
Organizations who act and lead from employee feedback outperform competitors who do not. Speak with one of Effectory's specialists today if you are wondering how, you can transform your organization's employee feedback into better results and performance.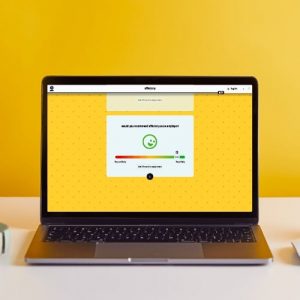 Book a free demo. See our solutions in action.
Effectory is Europe's Leading provider of Employee Listening Solutions. Schedule a product demo and discover how to enhance your employees' engagement.
Demo request