Why is listening to your employees so incredibly important in a crisis situation? Read all about in in this article.
//= $primaryVisual['url']; ?>
We previously shared everything you need to know about Continuous Employee Listening and listening environments. What is it and how do you use it to ensure the success of your organization?
"Continuous Employee Listening" — it sounds very modern and appealing, but what exactly does it mean? And more importantly, how can it benefit you? This term simply refers to "having the resources to get feedback on important topics in your organization from anyone and at any time." Not just listening, but also learning and taking action. Daring to change. And that's important because if you want your organization to be able to keep up with global developments, it is important to be agile.
Total Economic Impact Of Employee Listening
Effectory commissioned Forrester Consulting to conduct a Total Economic Impact™ study and examine the potential return on investment (ROI) of Employee Listening
Download
Agile working
The world is constantly changing, but is your organization keeping up with it? In order to be successful and stay successful, your organization must be able to adapt to specific, dynamic situations. This only works if your employees work with you — or, in other words, if they feel engaged. Did you know that employees who feel this sense of engagement are 30% more adaptable than employees who do not? In short: You cannot create an agile organization if your employees do not feel engaged.
Listening, learning, and taking action
How do you create this kind of engagement? By practicing "Continuous Employee Listening". This doesn't mean that you have to get your employees to fill out questionnaires all the time. It means you have the right resources to get valuable feedback at any time – for example, by using an onboarding survey, a team survey, or an exit questionnaire. But listening alone is not enough. You also need to learn from this feedback and take action. Really listen to what people are saying and do something about it. Change, improve, and create a sense of engagement.
Ask the right questions
The right listening strategy is all about asking the right questions. What is the quickest way to start getting the best out of your new employees? What can encourage better performance from your current employees? And how can you make sure that those who are performing well will continue to work in your organization for a long time? If you ask the right questions, really listen and take immediate action, your employees will feel listened to, they'll work harder, and stay with you longer.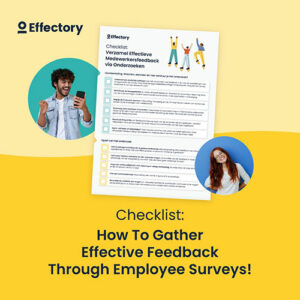 How to gather feedback from your employees
The step-by-step guide to creating your employee engagement survey.
Download
Create a listening environment
All of this sounds great, but how do you go about creating a listening environment? You need to implement three elements on three levels.
The three elements are:
Constant access: You must be able to listen and receive feedback at any time.
Relevance: You must be able to ask everyone the right questions.
Maturity: Your organization must have the experience, willingness and resources in-house to really do something with this feedback — Effectory can help you with this.
The three levels are:
Central: These questions focus on the alignment of your organization.
Local: These questions are more focused, for example on a team or a particular topic.
Specific to an event: These questions focus on a specific and temporary event, such as a merger, or COVID-19.
Aim for more success
Once you start to really listen to your employees, your organization will begin to reap the benefits. There are many benefits for companies that apply Continuous Employee Listening to respond quickly and effectively to what's happening:
Employees work more efficiently (21%) and are more engaged (22%).
They are less likely to switch companies (18%) and they make fewer mistakes (15%).
Alignment goes up by 31% — keeping your employees on board and on course.
Want to find out more about listening to your employees?
Keep an eye on our blog posts to learn more about Continuous Employee Listening, crisis management, leadership, and being a good employer.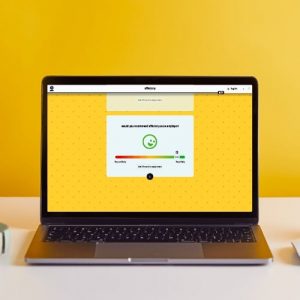 Book a free demo. See our solutions in action.
Effectory is Europe's Leading provider of Employee Listening Solutions. Schedule a product demo and discover how to enhance your employees' engagement.
Demo request