Here, we discuss how people analytics gained through feedback can mitigate the risks to a successful transformational project.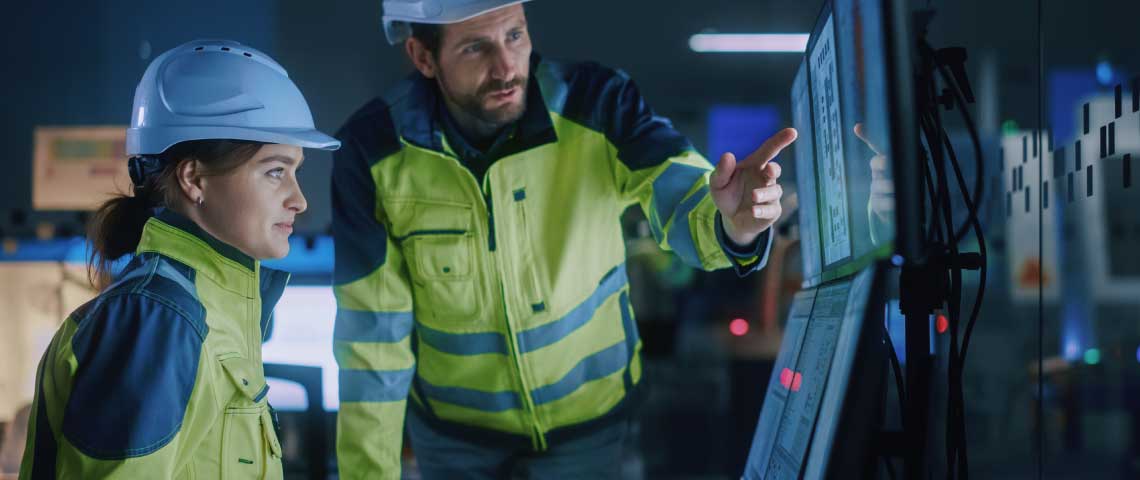 //= $primaryVisual['url']; ?>
Change management and digitization
According to Michigan State University, change management is the "process of overseeing and facilitating change" within an organization. Currently, digitalization is one of the most common forms of change taking place within organizations.
Digitalization is the process of increasing productivity by introducing more automated and digital processes and tools into an organization. But an organization's pre-existing culture will influence how successful this change management will be.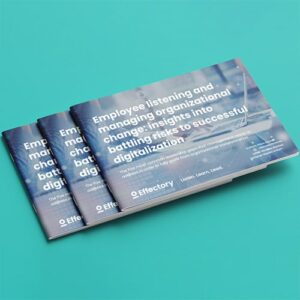 Battling risks to successful digitalization
Discover global insights into battling risks to successful digitalization. We identify the five most common leadership gaps that management needs to address in order to fully profit from organizational transformation.
Download
Increased digitalization in the workplace
The pandemic has seen companies accelerating their digitalization efforts. Recent lockdowns have forced companies to have large parts of their workforce switch to a collaboration model of distributed teams and has introduced new ways of working which were previously closed. 
Digital platforms were brought in to compensate for the potential lack of informal floor talks, often regarded as a source for innovation. Onboarding and training and development further moved from classroom settings and on-site training to digital environments.
Digitalization and the Future of Work
Digitalization is a key component of what is described as the Future of Work. While much focus around the Future of Work is on how it will disrupt the labor market in general – especially through transforming the types of jobs that exist in the market – for organizations, digitalization only makes sense if it leads to greater productivity. 
But high productivity can't be achieved by machines alone. An organization's people will remain a core focus, and that means that more traditional questions, around organizational culture and team cohesion, for example, will be complicated by the way in which those elements, people and digital tools (will) intersect with each other. 
The relationship between organizational culture & team cohesion and digitalization isn't a one-way street, but rather a circular one. Organizational culture & team cohesion impact the adoption of digital tools and new ways of working and will make or break the return on many digital investments.  
Company Culture and Digitalization 
Digital tools and processes are often talked about in isolation, but these are always inserted into already existing cultures. The quality of the pre-existing company culture will largely dictate how successful digitalization efforts will be. Or, these efforts will highlight unidentified problems, which provides a good opportunity to finally address them. 
Employee sentiment on their organizations' digitalization efforts will be influenced in large part by the company culture. Feeling comfortable communicating honestly, having good cohesion with teammates, and much more besides, are all visceral elements of the company culture and employee experience.  
What is company culture?
For Robbie Katanga, "culture is how organizations 'do things'." And of course, this is not through an organization being monolithic, is it about tracking the factors that drive internal variations in how the business functions.
Paul Millerd explains that "It is common for companies to claim a collective company culture, but this is not a good way for thinking about culture. While there may be common cultural elements across a large company, the culture that we care about is found in specific teams of individuals." 
It is by looking at the specifics of how individuals within teams interact that forms a huge part of what we understand to be "company culture." The relationship between individuals within a team is often referred to as team cohesion.  
How digitalization interacts with company culture
The Productivity Paradox 
Today, global spending on digital transformation accounts for nearly half of the global IT spending. 
This is in part to combat what the Organization for Economic Co-operation and Development (OECD) has pointed out, which is that productivity growth has declined sharply across OECD countries over the past decades.
The Federal Statistical Office of Germany also notes the slowing down of labor productivity in Germany and Europe. It calls the disconnect between the increase in digitalization and weak productivity growth the "productivity paradox."
Organizations are seeing various degrees of success in adopting and leveraging digital technologies and their own transformation to achieve growth, create new business opportunities, and create competitive customer and employee experiences.  
The success of any strategic transformation is also impacted by an organization's company culture.  
Road bumps to digitalization 
There are numerous parts of an organization's culture that can be a risk to the success of a digital transformation. These are:   
Collaboration: Do workers have the right relationship in increasingly digital-only working relationships? 
Management: Do their managers have adapted their skills? Do they have the ability to manage and engage a distributed workforce and manage their performance accordingly?  
Tools: Can everyone navigate the landscape of digital tools are that are now an integral part of the value-creation chain? 
Cyber Security: Do they have the right skills and the mindset to mitigate the increasing cyber security risks? 
Selling: Are they able to articulate the value-add of the new digital offerings to their customers, especially as companies offer more self-service components that were previously managed by a person? 
Attitudes: Are they given visible role models to learn new ways of working in their day-to-day work? 
Do organizations have good capabilities to deal with the digital divide and increase the overall digital literacy of their workforce? 
All the above are challenges to organizational digitalization strategies.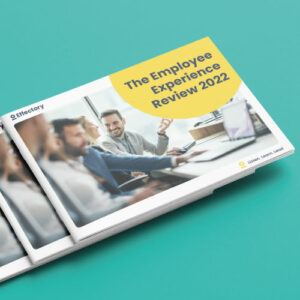 Download the Employee Experience Review
Discover how employees around the world are experiencing different parts of the employee journey and how this affects the employee experience.
Download
Address the risks of digitalization 
Similarly, every company's digital transformation strategy has an impact on a given company culture. Non-acceptance or a lack of adoption of digital tools is more likely if employees' concerns are not addressed. This is due to concerns or insecurity. These include:   
Will my working relationships change?  
How is my performance measured and looked at? 
Will I be given the chance to grow my skills? 
Will my current role be redundant soon? 
Artificial Intelligence knows a lot about me. Is it safe? What about confidentiality? 
Algorithms everywhere, but are they fair? 
What is the impact of always-on on my work-life balance? 
To minimize friction, companies need to make these sorts of questions part of risk assessments. Risks are typically assessed of subject matter experts and managers, and then presented to the management responsible. The management responsible then decides if the risk is acceptable or if action needs to be taken.  
However, risks can arise from the sentiment of an organization's people. Traditionally, this risk was assessed based on the insight that management had into employees. Thanks to employee listening solutions such as Effectory, organizations can now make data-driven decisions when it comes to assessing these sorts of risks.  
Mind the Leadership Gap
Our research suggests that management's blind spots on employee sentiment present a risk area to many of the important factors that could lead to successful digitalization and the transition to the Future of Work. For example, when asked: "Management knows what is happening on the work floor", 80% of senior managers agree, as do 70% of middle managers, but only 59% of non-managers do. This is a significant gap. 
A general look at Effectory's global benchmark data reveals that a certain difference in the views of managers can be expected. Managers have more positive perceptions of their company, policies and practices, and the working environment. 
Analysis and experience reveals that the breaking point is an 11%-point difference between managers' and employees' responses (what has been described as the "leadership gap"). If organizations are experiencing this or a larger point difference for important questions, they are advised to actively work on bridging the "leadership gap" by means of improved top-down-communication, rearranging communication methods, or re-evaluating management's current view on a situation. 
Assess the risks in your organization culture in order to achieve successful digitalization  
Effectory has researched the leadership gap across the most prominent and important building blocks of a culture that fosters a successful digital transformation in organizations. The results revealed five major areas of cultural risks in organizations' transition to digital that managers tend to underestimate.
Our report, Employee listening and managing organizational change: insights into battling risks to successful digitalization, is based on extensive data taken from interviews with employees around the world and illustrates employee sentiment on how their organizations are dealing with digitalization and the resulting change management. It also demonstrates the gap between employees and management when it comes to these topics.
Through this analysis, we demonstrate why this gap is so important to tackle, and how a fully integrated employee listening strategy can help organizations bridge this gap, keep their culture receptive, inclusive and productive – and successfully transition into the future.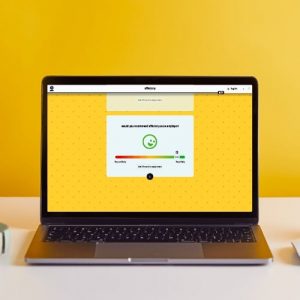 Book a free demo. See our solutions in action.
Effectory is Europe's Leading provider of Employee Listening Solutions. Schedule a product demo and discover how to enhance your employees' engagement.
Demo request