Improve employee engagement, increase productivity, and reduce turnover with one of these strategies.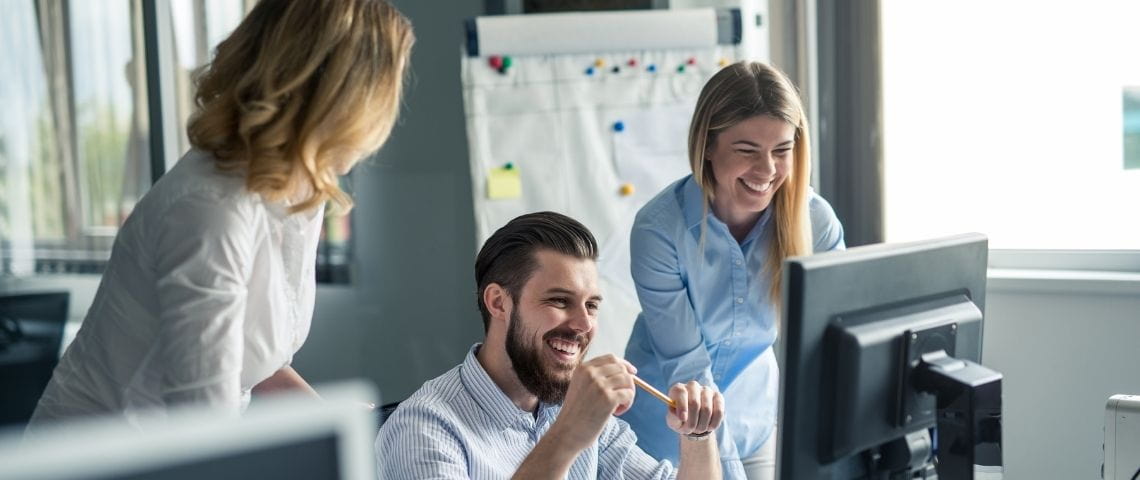 //= $primaryVisual['url']; ?>
Why you need an employee engagement model
Employee engagement is a measurement of how dedicated employees are to their workplace or employer. Why engage? Engagement significantly affects an organization's bottom line, among other business outcomes. According to Gallup, safety incidents decline by 64 percent when employees are engaged, while disengaged employees are 60 percent more likely to make errors. Engaged employees are also 87 percent less likely to leave the company for other employment opportunities. Altogether, the cost to employers for the higher absenteeism, lower productivity, and lower profitability of disengaged employees is estimated at 34 percent of each and every employee's individual salary.
The best tips on how to improve employee engagement in your company
But how do you go about encouraging employee engagement? Small changes to corporate culture and larger, ongoing initiatives can both help move the needle. To bring about significant and lasting change in your organization, however, you need an all-encompassing strategy with measurable results: an employee engagement model.
This article will explore five of the most popular employee engagement models to consider implementing within your organization.
The JD-R model
Our first employee engagement model is among the most popular, and is our personal favorite. Established in 2006 by Arnold Bakker and Evangelia Demerouti, the Job Demands-Resources theory can be used to predict or alert companies of signs of employee burnout and to encourage engagement.The JD-R model breaks down the elements comprising an employee's role into two distinct categories: job demands and job resources. Demands refer to the organizational, psychological, emotional, and physical burden placed on an employee. They can include everything from time-sensitive assignments or a heavy workload to interpersonal workplace dynamics. Job resources are the support structures, systems, and processes available to employees that help them satisfy these demands. Resources can include training, mentoring, clearly defined goals, employee benefits, and helpful feedback.
In short, the JD-R method aims to balance job demands and job resources so that employees feel challenged and valuable at the same time as they receive adequate support so they can do their best work and avoid burnout. To achieve this equilibrium, managers and team leaders are encouraged to track demands and resources and to actively both address demands and either create resources or direct employees toward existing ones.
One of the biggest strengths of the JD-R model is that it can be applied to all roles across all industries. While job demands and resources vary drastically from one organization to the next, the overall structure is universal.
Facilitate increased engagement with employee training activities
The Zinger model
This next employee engagement model is named after its creator, management consultant David Zinger. His theory is based on decades of experience in employee psychology, assistance, engagement, and burnout. His model focuses on the importance of employee connections to one another, to the organization, to customers, to their broader community, and to the employee's own performance.
The Zinger employee engagement theory can be visualized as a pyramid consisting of ten blocks. The structure's foundation consists of four employee needs referred to as "the necessities": the need for meaning, enhanced well-being, enlivened energy, and leveraged strengths. This bedrock row ensures that employees are cared for and stimulated as they are given meaningful work and opportunities to showcase their strengths.
The second row, "uniting the company," consists of three blocks. This is the level at which to build relationships, foster recognition, and master moments. The goal is to form bonds and create space for employees to be present and invested in their work.
The third row, "boosting performance," is made up of two blocks: maximizing performance and path progress.
Together, these three rows constitute the core categories of employee engagement and lay the foundation for the top block, which is the ultimate goal of achieving results. The Zinger model involves a number of moving parts to help organizations—and their leaders—achieve ongoing engagement with their employees.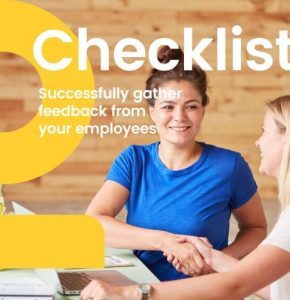 How to gather feedback from your employees
The step-by-step guide to creating your employee engagement survey.
Download
The Deloitte model
The Deloitte model was developed and popularized by Deloitte Touche Tohmatsu Limited, one of the world's Big Four accounting firms. With over 330,000 employees globally, Deloitte's ability to keep its teams engaged has massive implications for their organization. The company invested two years of research into developing their own employee engagement theory, which strives to make their workplace "irresistible."
The Deloitte model was developed through expansive employee interviews. Their research identified five core elements as the central pillars of engagement: meaningful work, hands-on management, a positive work environment, opportunity for growth, and trust in leadership. The model outlines four key strategies and actions per element that, together, make up the twenty determining factors behind employee engagement within an organization. Tying all of these elements together is one guiding principle: a focus on simplicity.
Here is a more detailed look at each of Deloitte's elements of engagement:
Meaningful work: Employees need to be hired for the correct position, given the tools and autonomy to do their best work as part of a supportive team, and know that their contributions matter.


Hands-on management: Teams thrive when given clear and achievable goals, plus regular coaching. Companies must invest in developing management to ensure that leaders have the right skills to keep their teams engaged.


Positive work environment: An inclusive and diverse workplace makes employees feel at home with flexibility and benefits that support their well-being and work-life balance makes them feel valued.


Growth opportunity: High-performing employees need room to grow. Creating opportunities for career development and advancement within the organization is essential to reducing turnover.


Trust in leadership: Organizations need a unifying mission that employees can feel proud to contribute to. Honesty, transparency, and strong leadership are essential to inspiring employees and encouraging engagement.
The 4 drivers of employee engagement in 2021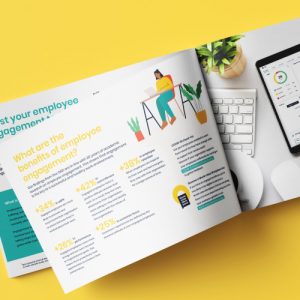 Global Employee Engagement Index™
A comprehensive overview of employee engagement with benchmarks from 57 countries with essential lessons for your HR strategy .
Download
The Gallup Employee Engagement model
As an industry leader in workplace analytics, Gallup already provides companies with many of the most widely circulated statistics on employee engagement. To develop their model, Gallup surveyed millions of participants around the world and derived conclusions from over 50 years of research. The result was the Q12 Pyramid, a model that focuses on productivity in relation to engagement, called "the best tool for growth" by Monkhouse & Company.
Employee Engagement strategies: the top 7 according to Effectory
The Q12 model consists of a 12-question employee engagement survey and an accompanying pyramid. The pyramid is broken down into four "types of needs" that employees have relating to performance, development, and growth. Starting from the bottom, they are: basic needs, individual needs, teamwork, and growth, growth being both the goal of the Q12 model and a key component of employee engagement.
This short survey may seem like a simple strategy, but Gallup has designed it to accurately evaluate what they identify as the twelve elements of employee engagement. The responses to these twelve questions provide a guideline and context for managers and team leaders so that they, in turn, can accurately identify impediments to employee engagement and opportunities for improvement.
The AON Hewitt model
Most employee engagement models operate on the assumption that engagement is essential to a successful organization. The AON Hewitt model takes this a step further by explicitly building this connection into their model through the concept of engagement outcomes.
According to the model, organizations should be aiming for three engagement outcomes:
Say: Employees who are engaged become ambassadors for the organization. Their enthusiasm and trust come through in what they say about the company, both internally and externally.
Stay: Turnover is extremely costly for any business and is a significant indicator of employee engagement. If employees stay with the company, they've established ties with the organization that go beyond simply receiving a paycheck.
Strive: When employees are engaged, they strive to go the extra mile for the company and feel invested in the organization.
The organization's leaders need to adjust six engagement drivers to achieve the desired engagement outcomes. These drivers can be broken down into foundational engagement drivers and differentiating engagement drivers.
Foundational engagement drivers:
Basic needs: Employees want to be taken care of and have a suitable work-life balance. Fulfilling basic needs improves retention.
Company practices: The day-to-day operation of an organization, its programs, and its initiatives should encourage employees to stay and strive.
The work: Employees need to feel challenged by their work, and at the same time, they need the right resources to deliver their best performance.
Differentiating engagement drivers:
Brand: The way an organization is perceived is key to employee engagement. Ensuring a positive brand image is paramount to satisfying the 'say' engagement outcome.
Leadership: Employees are far more likely to say, stay, and strive when the organization's leadership is actively involved in the company's mission and corporate life.
Performance reviews: Recognition is essential to employee engagement. If employees are going to stay and strive, they need to know their contribution matters, regardless of their specific role.
By adjusting and refining these six engagement drivers, businesses following the AON Hewitt model can consistently achieve the desired engagement outcomes and improve employee engagement overall.
Remember that, first and foremost, employee engagement is about addressing your team's needs and creating opportunities for them to thrive.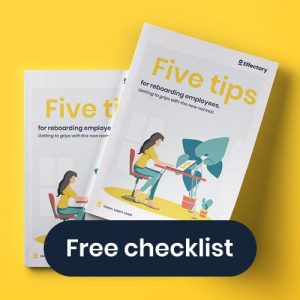 Checklist: 5 tips for Reboarding Employees
Are your employees still working at home or at the office again? Or a combination of both? We are happy to share practical tips for reboarding employees.
Download