How to use benchmarks strategically and effectively in your employee listening strategy.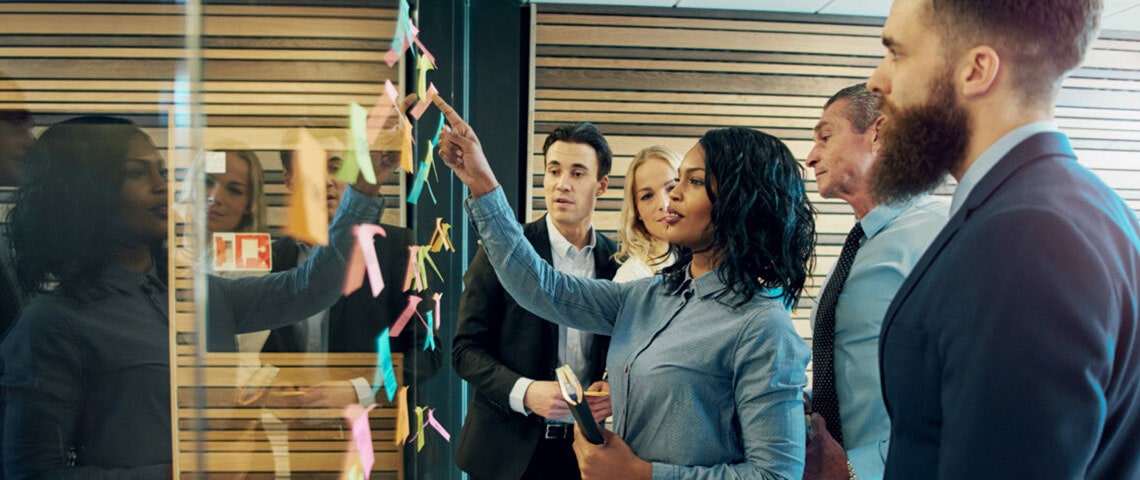 //= $primaryVisual['url']; ?>
What is Benchmarking?
A benchmark is a reference point you can use as a comparison. It can be a qualitative benchmark, such as a best practice or industry standard process. This is often referred to as "process benchmarking." It can also be quantitative, meaning a number with which you can compare yourself to peers, otherwise known as "metric benchmarking."
It is not just comparison for comparison's sake, however. Process benchmarking has been described as a "a process of finding good practice and of learning from others." Meanwhile, metric benchmarking "doesn't provide answers to a business problem but can usefully help to focus on the correct questions for further exploration." 
Continuous listening + benchmarking = continuous improvement
Since Effectory was founded, benchmarking has been a core feature of our platform. We've embedded both internal and external benchmarking into our continuous employee listening solution. This is because organizations want to compare their most recent survey results to their previous performance – and to peers. It's been argued that "the ultimate goal of benchmarking is continuous improvement, something all businesses should aim for." We couldn't agree more. 
Comparing survey results isn't the only method of internal benchmarking. This can also involve business unites within an organization comparing themselves to an organization's average score. This lets individual units understand if they score lower or higher than the 'average' employees in the organization.
What the experts say
In relation to comparing your results to external parties, HR expert Josh Bersin says that: "by benchmarking yourself you can identify the key areas where you are 'outside of range' – either financially, organizationally, or operationally.  Once you identify these areas of opportunity, you can take a laser focus toward improvement." 
According to researcher Hikmet Erbiyik, benchmarking "enables companies to strengthen their weaknesses, to evaluate opportunities in the best way, to be customer oriented and to survive in a competitive environment within the corporate culture."
Benchmarking is a great way to gauge organizational progress and also to bring attention to critical points of improvement. By comparing your organization's scores to those of other organization's in your industry, or in your territory, you gain a clearer view on what aspects need improvement. You can also see which ones are overperforming, giving you competitive advantage.
Why is benchmarking important?
As has been noted elsewhere, while some fields of expertise require practitioners to gain licenses that act as proof of their knowledge and experience (doctors and lawyers, for example) there is no such barrier for entry for many corporate jobs.
Of course, there are degrees and training certifications available for specific topics and roles. But in most jobs, the proof is in the doing. People demonstrate their strengths by working on a project and then measuring its success based on various metrics.
One of the main ways in which workers are assessed are by key performance indicators (or KPIs), which are usually set by management. There are the goals that a worker is expected to achieve, and are often based around an organization's growth goals.
Use benchmarks for smarter assessments
Benchmarks are another metric by which someone or a team can be assessed, and can be used to measure the progress of topics such as engagement or diversity & inclusion. Rather than setting fixed points (or KPIs) where the scores of these or other themes should be, it is more important to take previous performance into account, and aim for steady improvement.
Benchmarks can also be a fairer way to gauge the perceived success or failure of a particular project, because if someone doesn't meet their KPIs, but they're overperforming the industry average, or they've greatly increased performance since the year before, they can still be judged to have done a good job. Of course, there are issues with benchmarks, and we'll discuss these later.
Different types of benchmarking
Internal
Internal benchmarking is when organizations compare recent metrics to their own past performance, or when business units compare their scores to how the organization performs overall.
In relation to employee surveys, this would mean comparing engagement levels today with those of two years ago, for example, or seeing how the intention to leave rate has fluctuated overtime. This allows organizations to track trends, and to analyze what effects employee responses over time.
Competitive (or Best Practice)
Competitive benchmarking is when organizations compare recent data to peers.
The most common form of competitive benchmarking is to other organizations in the same industry, but geographical benchmarks (comparing to other organizations in the same country or continent, for example) are also sometimes used.
Best in Class
This type of benchmarking is for those with big ambitions. If being the best in your field on any particular themes is your mission, then you can compare yourself to only the highest performing organizations.
Thinking critically about benchmarks
Rob Catalano has expressed skepticism about competitive benchmarking practices. He writes that: "Companies spend effort, time and focus on data that, although interesting, doesn't provide reliable data to base decisions on." 
This could certainly be true in instances where the competitive data an organization is comparing itself is not complete or not representative. However, Effectory's competitive benchmarks are built on the full responses from thousands of organizations around the world. We anonymize and secure all employee responses using the highest grade IT security and being fully GDPR compliant.
Benchmarks are for "continuous improvement"
Organizations get the double benefit of having full data with which to compare themselves to, while also being safe in the knowledge data employees have provided are private and secure.
Echoing what was discussed earlier, Catalano says that: "The focus should be on continuous improvement." He has three suggestions for organizations:
"Place more value on internal benchmarks"
"Measure the impact of individual drivers of engagement"
"Monitor internal trends over time — and make leaders accountable"
An agile and self-service employee listening platform such as Effectory makes it possible to monitor trends in relation to engagement and other important topics.
About the Effectory Employee Experience Benchmark
Every year more than half a million employees complete surveys performed through the Effectory platform. Protected and made through our extensive information security processes, these answers then inform our benchmarks.
This makes the Effectory Employee Experience Benchmark among the world's largest and most credible collection of benchmarks for assessing different parts of the employee experience.
The Effectory Employee Experience Benchmark is flexible, you can always find a well-informed benchmark to compare your scores with. These can be based on sector, organization size, country, work type, or positions. The benchmarks are valid because the questions we use are scientifically valid and all responses are comparable. Our benchmarks represent employees' true feelings and responses to questions on numerous themes.
Effectory users can also choose to browse their previous scores, current score, external benchmarks and ones from 'best-in-class' organizations. This way organizations can observe how:
they have progressed over time
their internal units vary in terms of the overall picture
the organization is doing compared to others
What Effectory customers say about Effectory's Benchmarks
Here's some anecdotes direct from Effectory customers about why and how Effectory's benchmarking works for them.
For Kramp, Effectory is a listening platform that boosts a data-driven people strategy.
Effectory is integrated with Kramp's Workday database, which saves the HR team time and makes the process of keeping the database of employees up to date more efficient. Kramp's HR Content & EX Specialist Wanda Stoteler says that Effectory's "platform is very self-service, easy to use, and user friendly. Our business partners performed the local surveys with almost no extra help."
Benchmarking is proving important for HR when it comes to communicating with the C-suite. "At the senior level, there's often the question of 'what is the benchmark saying? How are we doing in comparison to the benchmark?' Also on a country level, it's very useful to have a geographical benchmark that regional teams can compare themselves to."
Building an "action and review loop"
Pieter Snelder, the managing director of Kingspan's Nordics & Russia operations in Kingspan's CEER Panels Division, brought Effectory on board to help his side of the organization cultivate a culture where employee insight is taken seriously, and management is open to working on feedback.
According to Pieter, Effectory had the edge over our competitors in two key ways. "Effectory's solution is not just a technological one but also comes with the consultants and the expertise and knowledge from other businesses in the form of the benchmarks. There is also the action and review loop."
"For me it was very important that everyone was engaged in the research, and part of the follow up and the action plan. Effectory helped us do this, and do it efficiently and stress-free."