Improving employee engagement starts with asking the right questions to get a clear picture of your organization.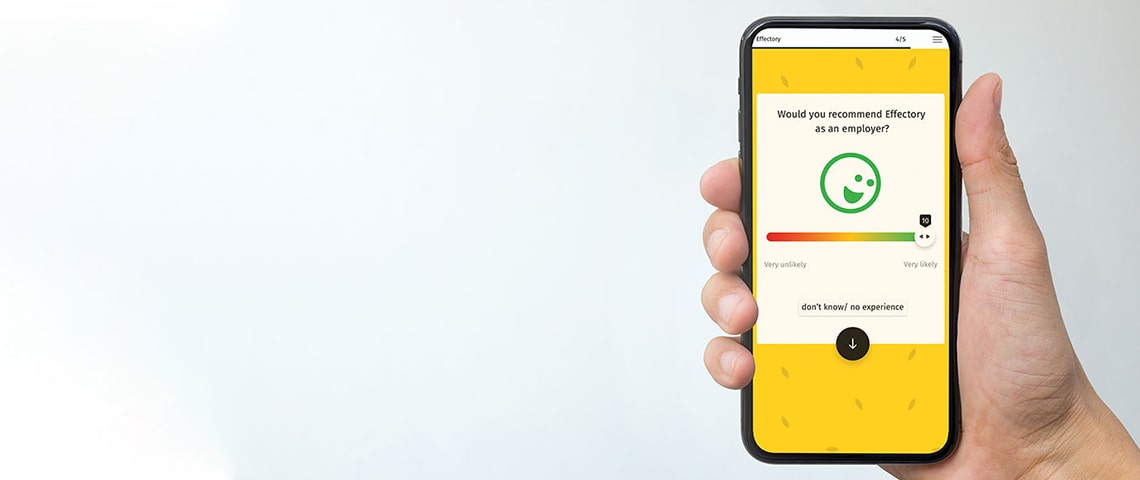 //= $primaryVisual['url']; ?>
Why surveys work
A number of tools for tracking and evaluating employee engagement are available to organizations, including exit interviews, dedicated HR software like 15Five or Kudos, and employer review websites like Glassdoor. Surveys are still one of the most effective tools for measuring employee engagement. In fact, Gallup, a global leader in workplace analytics, bases their entire employee engagement model on a 12-question survey.
Effective employee engagement surveys provide two key types of insight:
Current engagement: surveys give employers a snapshot of engagement at a specific moment in time. This can be used to gauge how engagement evolves over time.
Problem areas: surveys help the organization see which specific issues need to be addressed to improve engagement.
In contrast with other methods for measuring engagement, surveys allow businesses to collect data that's both quantifiable and actionable from across the organization.
The power of a survey: asking the right questions
When properly executed, employee engagement surveys communicate to employees that their organization's leadership is listening to them. They also show that the organization is committed to improving its corporate culture. Anonymous surveys also provide a workplace-appropriate way to express frustrations.
Effectory has been developing its question sets and themes for over twenty years. Our expertise and expertise is funneled into surveys that provide managers and HR professionals with the essential insights they need.
Read also: The difference Between Employee Experience and Engagement
To make a significant and lasting impact on employee engagement, surveys need to include questions that effectively highlight specific opportunities for improvement to the organization. The goal is to get an honest picture of the organization and prevailing employee sentiment. Here are some of the most effective questions to ask your team on your next employee engagement survey.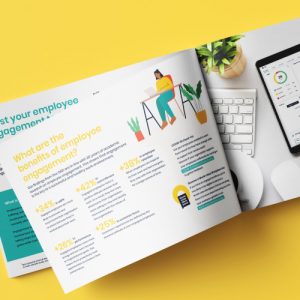 Global Employee Engagement Index™
A comprehensive overview of employee engagement with benchmarks from 57 countries with essential lessons for your HR strategy .
Download
Engagement index: satisfaction and pride
These first questions provide an overall perspective of how satisfied an employee is within the organization. They look at how the employee perceives the company as a whole, as well as their individual place within it.
How happy are you at work on an average day? By beginning the survey with a personal question, you communicate to the employee right away that the purpose of this survey is to improve their experience. Employee engagement and happiness are not equivalents, but they do overlap.
Are you proud to be part of this organization? According to a Jostle study, an employee's pride in the company ranks among the four most important factors behind employee engagement. Research conducted by Facebook's HR department in 2017 actually found pride to be the single most important driver of engagement
Do you feel that you are contributing to a clear mission or company goal? Job satisfaction and engagement go hand in hand. Employees need to feel that the tasks they're given have value and meaning. When those tasks contribute to a larger mission, employees are more likely to feel invested in the organization.
How likely are you to recommend this organization to a friend? When an employee organically recruits on behalf of the organization, it shows they genuinely have positive things to say about their employer. It's also a strong indicator of overall satisfaction with the day-to-day workplace experience.
How often do you think about applying for a job with another company? A 2019 Glassdoor survey found that 52 to 66 percent of employees care more about company culture than compensation. This question is a good way to start the conversation, especially when paired with an open-ended follow-up question.
Engagement index: leadership and management
This section of the survey takes a closer look at the dynamic between your employees and their managers. Employee engagement starts with leadership, and that's where effective management and communication are essential.
How comfortable are you speaking to your manager or team leader about a problem?Professional boundaries and hierarchy are important, but employees do their best work when they feel supported by their manager. The trust between a manager and their team is crucial to engagement.
Do you get enough direct attention from your immediate supervisor? When managers provide regular feedback and support, employees are more invested in their work. According to Gallup, the way managers give feedback is crucial. Research shows that "67 percent of employees whose managers focus on their strengths are engaged."
When was the last time your team leader recognized your accomplishments at work?Employees want to feel that their effort is being noticed and that their work matters. SurveyMonkey found that 63 percent of employees are unlikely to look for other employment opportunities when their work is being recognized.
Would you describe your team leader or manager as a role model or mentor? Leaders play a crucial role by inspiring their employees, both as a team and individually. Employees are far more likely to be engaged when their manager is actively involved in their individual development plans.
When you voice an idea or opinion at work, do you feel like it's taken seriously? Salesforce reports that employees are "4.6 times more likely to feel empowered to do their best work" when they feel their voice is being heard at work. When employees feel they're being ignored, disengagement increases.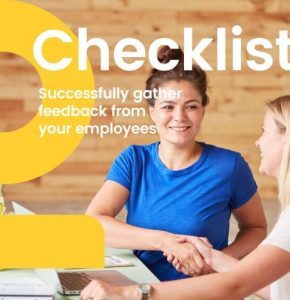 How to gather feedback from your employees
The step-by-step guide to creating your employee engagement survey.
Download
Engagement index: career development
Turnover is one of the most telling indicators of employee engagement. In fact, when employee engagement is high, turnover is reduced by 24 to 59 percent. Leaving an organization for a new job can typically earn an employee a 10 to 20 percent salary increase, which means growth opportunities is essential to retention. The right balance of autonomy and support is also crucial for engagement.
Are you satisfied with your current compensation? According to PayScale, salary remains the top reason employees seek new employment opportunities. Just knowing that there's room for discussion about their salary also has an impact on engagement.
Do you have access to the right resources and tools to do your job efficiently? This question invites employees to reflect on what they need in order to do their best work. Employees who hit the same roadblocks or inefficiencies are likely to disengage and feel that the organization isn't investing in their work.
Are your tasks and responsibilities clearly defined and achievable? Employees want clear objectives and measures of success. If employees respond negatively to this question, consider adopting a system like SMART goals to help assign work with defined objectives.
How often are you presented with opportunities to learn new skills? If employees aren't being given regular opportunities to develop new skills, they may feel that their career has stalled within the organization. Invest in employees by budgeting for courses, establishing individual development plans, and setting aside time for self-directed learning.
Do you feel there are opportunities for you to grow into a new role within this organization? In 2017, a SHRM survey found that less than 30% of employees report being "very satisfied" with the career opportunities available to them within the company. In contrast, 41% of employees highlighted advancement as being "very important" to their satisfaction level.
Engagement index: office culture, diversity and well-being
Employees are more likely to stay with an organization where they feel welcome, cared for, and included. The following questions address employee benefits, the atmosphere, and interpersonal dynamics within the workplace. Considering that 61 percent of employees are reportedly experiencing burnout, striking the right balance is crucial.
Do you feel like you've formed meaningful bonds with your teammates? Social opportunities and team-building exercises are important factors in employee engagement. Research shows that having a best friend at work can significantly increase engagement, motivation, and (contrary to popular belief) productivity.
How satisfied are you with the current benefits offered by the organization? Based on an SHRM study, you shouldn't underestimate the importance of employee benefits. According to their research, "60 percent of employees rated benefits as a very important contributor to job satisfaction."
Would you describe your workplace as diverse and inclusive? Employees don't want to work on a team where they feel marginalized or excluded. They want to work for an organization they can be proud of. Recent research finds that 67 to 86 percent of job applicants consider diversity an important factor when choosing an employer.
Is your work environment positive and encouraging? This question can cover a wide range of factors, including workplace design and office perks. Employees may also choose to focus on the overarching company values and how they're applied day-to-day, or get specific about their team.
Does this organization encourage and facilitate a healthy work-life balance? According to a Glassdoor survey, 87 percent of employees expect their organization to support a healthy work-life balance. If employees don't feel that their organization accounts for their personal lives, they're more likely to leave for an employer that prioritizes their wellbeing.
You'll want to take multiple factors into account when planning your employee engagement survey, including survey frequency, the resources you are able to allocate to engagement, and industry-specific concerns. Let these questions be your guide to gathering quantifiable and actionable information and improving employee engagement within your organization.
If you want to find out the expertly crafted questions that Effectory has scientifically designed over the past 25 years, ask us for a demo.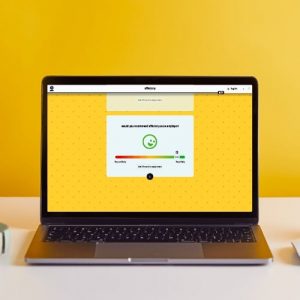 Book a free demo. See our solutions in action.
Effectory is Europe's Leading provider of Employee Listening Solutions. Schedule a product demo and discover how to enhance your employees' engagement.
Demo request