Understand the distinction between employee experience and employee engagement. Create a work environment where employees truly thrive.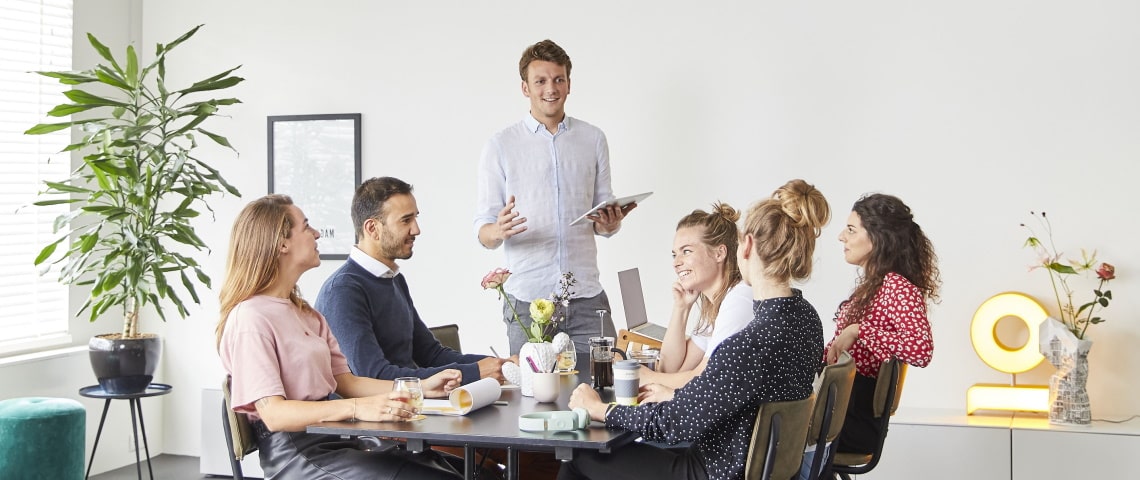 //= $primaryVisual['url']; ?>
The difference between employee engagement and employee experience
The business landscape is changing rapidly. Only agile organizations will be able to keep pace with the shifting markets in our ever-evolving world. For all this change, one thing remains constant, however: people are a business's most important asset.
Not even the most technologically advanced or forward-thinking organization can succeed without the right people on their team—and the competition for top talent is fierce. According to ManpowerGroup, the global talent shortage is at its highest in over 15 years. Sixty-nine percent of employers report struggling to fill roles within their organizations—a 38 percent increase since 2010. Faced with such competition, organizations need to refine their strategies for acquiring and holding onto top talent.
How to use employee listening to boost retention
At the same time, companies now have access to an unprecedented variety of tools, systems, and technologies to improve business outcomes. To achieve their goals, HR and company leadership need to understand that enhancing employee experience is essential to reducing turnover, improving productivity, and increasing profits.
Effectory provides top brands around the world with tools and strategies for enhancing employee experience. They use employee feedback and listening solutions to empower organizations. Companies gain valuable insights about their teams that they can use to identify opportunities for employee-centered improvements that benefit the bottom line.
What is employee experience?
Employee experience encompasses every step along the employee's journey with their organization. That journey begins when a candidate is approached by a recruiter or when they encounter a job posting for a potential future position. From that point on, every aspect of their relationship with the company accumulates to shape their overall employee experience, up to and including their exit interview.
Employees are involved in countless processes that begin with hiring and last throughout their time on the team. Their human impressions of these processes, that is, how they feel to the employees experiencing them, is what truly determines their overall perception. An employee's interactions with their co-workers, managers, leadership, HR, and the organization as a whole each play a pivotal role in setting the day-to-day tone of their journey. Employee experience is shaped by things both as simple as how easily employees find answers to their questions and as complex as how relationships between employees and manager evolve.
Because employee experience is so all-encompassing, it is impossible to identify every individual contributing factor. The BetterUp Employee Experience Index, however, identifies six key elements that drive experience.
Authenticity: How comfortable employees feel being their true selves at work
Optimism: How positive employees' outlooks are about workplace outcomes and possibilities
Purpose and meaning: The satisfaction an employee feels because they know they are contributing to a larger mission in a significant way

Social connection: Personal relationships and the sense of community developed at work

Belonging: The sense of security generated by the feeling of being accepted, appreciated, and included by the team and organization

Engagement: The employee's commitment to the organization, its goals, and values
Though often overlooked, external factors in the lives of employees also play a role in their work experience. An employee's health and fitness levels, financial wellbeing, and personal life all affect both an employee's overall experience plus their colleagues' experiences as well. That means achieving healthy work-life balance and having access to programs that support employees outside the workplace also enhance their experiences. When an organization is truly committed to employee experience, they continuously consider how employees will perceive changes at the company and how those changes will affect employees' quality of life at work.
What is employee engagement?
Employee engagement is the commitment team members feel to their organization, its central mission, and core values. While employee experience is about individual moments, engagement is the overarching connection or relationship employees have with the company as a whole. Studies have shown a direct correlation between engagement and business outcomes including absenteeism, turnover, productivity, performance, customer satisfaction, and profitability; it's estimated that disengaged employees cost the UK (alone!) £340 billion every year. 
Engagement and Motivation: what is the difference?
When HR departments implement employee engagement strategies, they focus on creating optimal conditions in which employees can do their best work. These initiatives can be as simple as improving processes to clear recurring roadblocks or more nuanced strategies that aim to better address a team's psychological needs. A number of proven employee engagement models can be used to measure and improve engagement, such as the JD-R model and the Zinger model. For those just learning about employee engagement for the first time, the Deloitte model is among the easiest and most accessible. Here are the five elements that drive engagement according to Deloitte:
Trust in leadership: Engagement starts at the highest level of the organization. To inspire employees to commit to the company's collective goals, leaders need to be present, active, and transparent.

Meaningful work: Employees need to know they are contributing to the company mission in ways that matter. When employees are given the right tools and granted autonomy to really take ownership of their assignments, they find purpose in their work.

Positive work environment: Whether remote or in a physical workspace, employees are more engaged when they feel welcome and supported. An encouraging, diverse, and inclusive workplace strengthens the bond between employee and organization.

Growth opportunity: It's essential for employees to feel they have a future with the company beyond their current role and salary. Paths for advancement, employee development plans, and on-the-job training all communicate that the company is investing in its employees.

Supportive management: Organizations need to invest in their managers by giving them the tools, resources, and development opportunities to champion engagement. Managers need to set clear and achievable goals, support their employees, and develop strong working relationships with them to foster engagement
Engagement strategies are often designed at the organizational or team level. When it comes to improving engagement for individual employees, however, supportive management is arguably the most important of the five elements listed above. According to Gallup's State of the American Manager report, "managers have the greatest impact on engagement," accounting for over "70 percent of the variance in employee engagement scores" across their teams and departments. And their managerial style isn't the only quintessential marker for how their team engages: their own engagement level counts too. Employees are 59 percent more likely to engage when they work under a highly engaged manager than a disengaged one. 
How engagement contributes to employee experience
The specific goals, areas for improvement, and business outcomes of both employee experience and engagement frequently overlap, in part because engagement is a key element of employee experience. Employee engagement is arguably the most important piece of the puzzle when it comes to enhancing employee experience. Engagement strategies can help foster commitment to the organization and its goals. However, even implementing those strategies doesn't necessarily mean employees are having the best possible experience. Strategies alone cannot guarantee a positive experience if an organization is not continuously improving other factors like work culture, growth opportunities, and management style.
To help explain how engagement works, Gallup maps out the employee life cycle into a seven-step journey:
Attract
Hire
Onboard
Engage
Perform
Develop
Depart
Managers and HR need to encourage engagement throughout an employee's time with the company, beginning with onboarding. Engagement becomes the top priority, however, when onboarding is complete and the employee joins their team. The majority of your employee's time with the company will be spent cycling through steps 4, 5 and 6: engage, perform, and develop.
Engagement drives your employees to do their best work by creating the right conditions for them to fully invest in their tasks. An engaged employee's performance provides insights into their strengths and weaknesses, highlighting potential opportunities for improvement. With these insights, managers can craft development plans for the employee. Development drives renewed engagement by stimulating the employee and showing that the company is investing in their personal growth and future.
The best tips on how to improve employee engagement in your company
Measuring and improving employee experience
According to Deloitte, 84 percent of business leaders consider employee experience important, but only 9 percent of them reported feeling they were adequately prepared to actively address employee experience. Because it affects so many other business spheres, organizations often struggle to find the right metrics and strategies to enhance employee experience. The first step to improvement is simply recognizing the value of your employees.
The exit interview might be a company's best opportunity to gain honest feedback from an employee about their experience. Short of burning bridges with valuable contacts, an individual who is leaving the company is no longer concerned with how their opinions might affect their treatment within the organization and is therefore more candid. Their information can help guide the company in the future.
Nevertheless, when you've reached the exit interview stage, it's too late to apply any of these insights to the employee in question. That is why it's important to create a work environment where employees feel comfortable enough to talk openly and honestly about their experience while there's still time for HR and management to address issues that could otherwise lead to attrition.
It's impossible to track every last second of an employee's time with their company; sometimes, there is simply too much going on. That means regularly getting feedback and connecting with them throughout their career at the company is crucial. Key relationships like the ones formed between employees and team leaders are critical sources of potential insight into the employee experience. Listening to employees is the best way to map their experiences and create opportunities for improvement. They are the experts when it comes to their own experience with the organization.
If you're looking to increase employee engagement and enhance employee experience at your company, you need the right tools and resources to collect meaningful feedback from employees and gain actionable, data-driven insights. Connect with an Effectory consultant today to arrange a demo or get more information about listening solutions for your organization.