A mere 14% of employees worldwide have complete confidence in CEOs and the board of their organisation.
Effectory's 52 country global study uncovered that just 14% of employees have complete confidence in CEOs and the board of their organisation. The insights are gained from a global study (the Global Employee Engagement Index) that contains the work opinions of employees of differing ages, education, tenure, gender, industry and type of work.
Worryingly for CEOs and businesses, Effectory recently discovered a link between employee confidence in top management, and employees' engagement and commitment.
In Effectory's study of multinationals, it was uncovered that board of Directors (including C level) account for a ninefold difference in employee engagement and commitment. Insights gained from employee survey analysis reveal that when employees have confidence in the board, they are nine times more likely to be engaged in their work and committed to the organisation.
"C-level and boards often don't realise the direct impact they have on employee engagement and commitment," says Arne Barends, Director, Effectory International.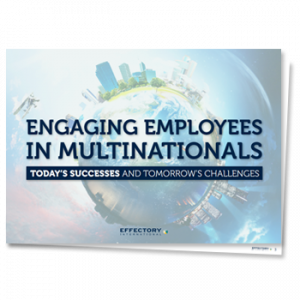 Engaging employees in multinationals
Download the free HR report on employee engagement and commitment in multinationals
Download
"Many are focused on the financials and high level strategy, and in the process overlook contact with employees at the ground level. What the best senior managers do is connect with employees by being visible in the organisation, they convey a clear vision and inspire trust through transparent communication."
High levels of employee engagement and commitment continue to be much sought-after by CEOs and organisations, especially as the two are linked to higher business performance, reduced staff turnover and increased efficiency. Expenditure on engagement related activities continues, yet Effectory's studies show that the impact of initiatives may be going to waste if C –level and senior management fail to inspire confidence in employees.