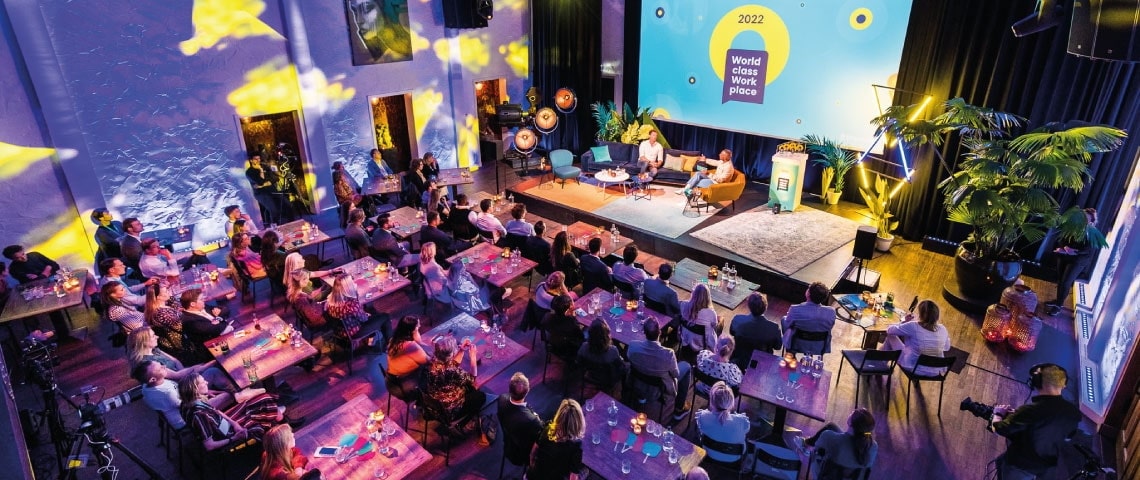 //= $primaryVisual['url']; ?>
Celebrating 2022's World-class Workplaces
International guests joined us virtually via our interactive portal. Gerresheimer, Daan, Dela, ENEXIS Groep and Catalana Occidente won the top awards in their categories. Our host Ikenna Azuike was joined by HR experts Dave Ulrich, Femke Kooijman, Guido Heezen and Sander van Gelderen.
Today's trending HR topics
Effectory's Sander van Gelderen joined our host Ikenna Azuike on stage to discuss the most important learnings from the past twelve months and some of today's most important HR trends.
Sander talked about how we are seeing different elements that influence organizations globally and interrupting organizations' ability to run effectively. He drew particular attention to the war in Ukraine, the political situation in some countries, inflation, climate change, and also ongoing COVID lockdowns. It's not the impact on the businesses that is in focus, but the impact these things have on the people that work, and that in turn impacts business.
He drew attention to four of today's trending HR topics:
The Employee Experience. We see an increased focus from CEOs and business owners on this topic. More than 80% of them rate it as very important to look at the employee journey end-to-end.
The Great Resignation. It's been hard to ignore news about this one. Talent has been leaving to find new opportunities. And it has become difficult to attract new talent to key roles.
The Future of Work. Everything from the hybrid working model to automation is making the Future of Work a hot topic. Issues around this topic are not necessarily tied to generational differences, so tuning in to individual needs is key.
Digitalization. HR was lagging behind but it is catching up. In general, there's a large adoption of new software and processes.
At Effectory, we're focused on Employee Listening. There's an increasing interest for Employee Listening solutions to address the entire employee journey. Only 29% of employees actually feel listened to – it's time to increase this percentage, and HR is under pressure to fix this gap.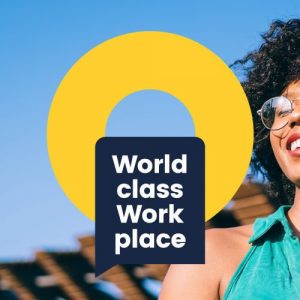 Want to be labeled a World-class Workplace?
A reward for good employers, because good employment practices deserve recognition. A fair quality mark, 100% based on the opinion of employees.
Sign up
The importance of the World-class Workplace label
Effectory co-founder Guido Heezen discussed the importance of the World-class Workplace label.
He explained that the World-class Workplace is a very important label for organizations because it can't be bought. Organizations have to really earn it, because it is based on the honest and anonymous feedback of their own employees. The label proves that an organization takes its employees' engagement seriously, that they give them a voice and that employees feel welcome and energized.
It is valuable for an organization because it is perfect for employer branding. This label offers a great opportunity to say to the world: "Hey, if you come to work for us, you will become part of this positive and engaged company culture."
From the beginning, Effectory has had a huge passion for listening to and empowering employees. Guido said: "We have seen the magic that happens when you take employees seriously and the positive impact this has on the success of an organization. We have further built the Effectory concept and organization around this."
Why a HR strategy that supports business growth needs employee listening
"What I'm super proud of is that we've grown from employee research into Employee Listening, being a true partner to help organizations address the challenges that exist in every part of the employee experience and every moment of the employee journey."
Today's biggest challenges for organizations around the world
Flexibility at work
Guido went on to discuss some of the big challenges that organizations are currently facing.
This includes not only being an employer of choice for recruitment purposes, but also the strategic importance of retaining good employees. There is a huge opportunity-loss if you don't have the employees to do the work that lies ahead of you."
Meanwhile, employees are changing and various topics are becoming more important to them. "Employees do not want to be a sort of time-slave to a company and want to be able to organize their work with more flexibility. We see a growing interest in work-life balance. This seems particularly relevant to Gen Z employees, but it ultimately affects everyone. We're starting to see an interest in rewarding employees on a more performance-oriented rather than time-oriented basis."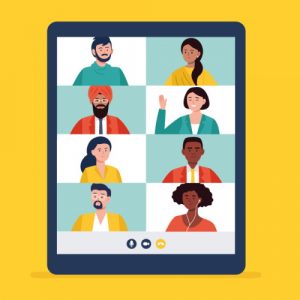 Whitepaper: Hybrid working is the new normal
How are you preparing your company for the changes ahead? Tuning into the needs of your workforce will be vital to compete effectively in the post-COVID world.
Download
Social Responsibility
We also see that it is important that organizations really take their social responsibility. The conversation about sustainability, the environment and social responsibility in a broader sense is making a real impact.
Employees really want people to see governments and organizations of all kinds (including their own) really do their best to tackle climate change. This creates pride and also commitment. Of course we are interested in how employee insights and feedback can help companies to further develop policy in this area.
Using employee feedback to overcome challenges
Guido continued: "When you are awarded the World-class Workplace label, you show everyone that your people really value you and that you give your people a voice and that you involve them. This is such a good advertisement for your company culture."
"In the first place, it is about aligning your mission with the ESGs as much as possible, so that you really have a meaningful social aspect at the core of your business. And this also encourages employees to think and act in terms of that mission."
"We are happy that we deliver a platform that ensures that employees are given a voice, and that we help to improve the working lives of employees and increase the success of organizations, so that these organizations can make a positive impact in the world."
What makes a successful organization?
We're proud to be recognized as an industry leader. There's one thing we're really passionate about: and that's giving our employees a voice within our company.

ENEXIS Groep
Femke Kooijman, head of client success at Effectory, joined Ikenna on stage to talk about what makes a successful organization.
She said that: "Successful organizations are those who put their values into practice. They also empower their people by listening to them." 
At Effectory, we've always seen employee listening as part of the process of increasing engagement and putting values into practice. Our own recent research shows that when employees are engaged:
there's a 35% increase in the retention of employees 
29% increase in customer focus 
29% increase in team productivity
These results aren't surprising. That's because engagement encompasses all the positive aspects of a person's working life, and so improving the various aspects of the employee experience is bound to have positive benefits across the board.
Successful organizations, like the ones represented during the World-class Workplace event, have mastered the ability to continuously listen to their employees, learn from them, and lead based on their feedback. They succeed because they create an environment where their people can also succeed.
Attendees were then shown a video featuring vox pops of people on the streets of Amsterdam, in which people talked about what makes a good boss or manager and how important feedback is to their professional lives.
After watching the video, Femke commented: "What really came through for me was the fact that almost all of them really want a more conversational relationship with their employer. They want their employer to be approachable, but also to listen to what employees are saying and doing, as well as providing their own feedback that helps people develop and grow."
The winners of the 2022 World-class Workplace awards!
We were very happy to announce the best performing organizations from this year's World-class Workplace label winners.
Here are the winners:
Best in Germany: Gerresheimer
Best in Netherlands with up to 1,000 employees: Daan
Best in Netherlands with up to 1,000 employees: ENEXIS Groep
Best Globally with up to 1,000 employees: Dela
Best Globally with more than 1,000 employees: Catalana Occidente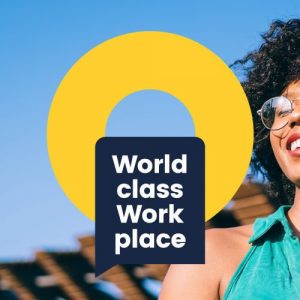 Sign up for World-Class Workplace
A reward for good employers, because good employment practices deserve recognition. A fair quality mark, 100% based on the opinion of employees.
Sign up