Here's five challenges HR and organizations need to prepare for and overcome during the coming months.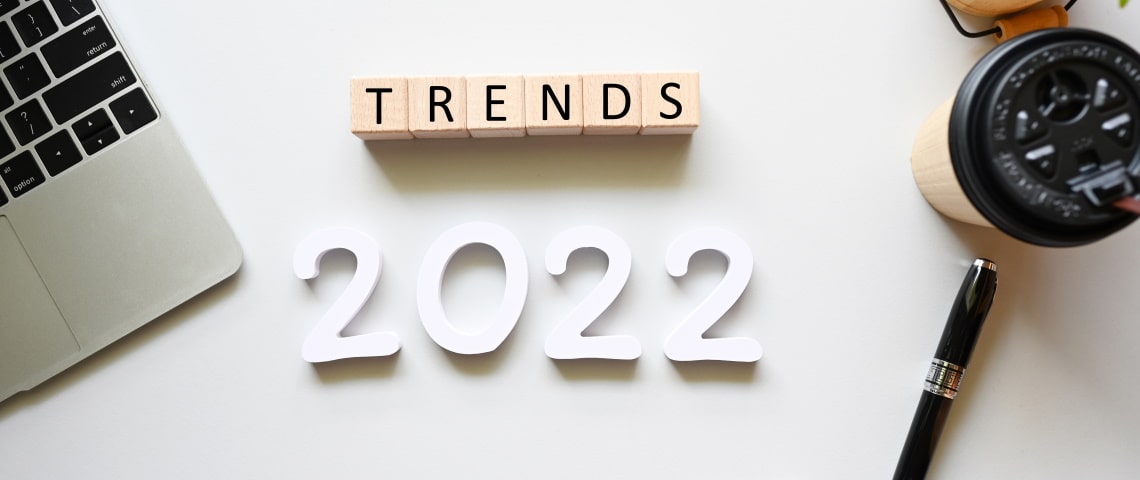 //= $primaryVisual['url']; ?>
With the COVID situation still fluctuating, the transition to hybrid work will continue and it will of course affect HR's responsibilities, including hiring, onboarding, and engagement.
But it's important not to lose sight of the other topics that are proving to be pressure points for human resources and businesses in general. The pandemic effects each of these in some way, but they are also challenges that can be overcome with a people strategy that empowers employees by making them part of positive change in an organization.
In this post we're going to go through what experts are saying about HR's next challenges, discuss the role of an employee listening strategy to meet these, and list the five hot topics for 2022 as we see them, based on our conversations with HR managers and CHROs throughout Europe and the world.
HR in 2022: what's on the horizon?
There's numerous trends set to define the next year. This includes the perception gap between what employees and employers see as driving productivity and creativity. In general, employers still aren't recognizing that employees want there to be as much as a focus on their wellbeing and engagement as well as renumeration.
HR tasks are also set to become more decentralized, meaning that managers of individual teams and branches will have to develop skills typically associated with HR. This includes mentoring and monitoring skill sets.
This is something we've noticed when talking with Effectory's customers. It's becoming increasingly common for pulse and theme surveys to be performed by managers in order for the feedback and action plan implementation loop to be quicker and more effective.
Human Resources Today makes people analytics one of the trends that will continue to accelerate throughout 2022. We couldn't agree more, and we'll talk about that in detail when we discuss HR and data.
As well as people analytics, HRT proposes AI and machine learning as technology which will impact the field. These technologies are still young, but it's likely that some form of them will be put to tasks such as streamlining hiring workflows and performing repetitive administrative duties.
Gartner's Top 5 Priorities for HR Leaders in 2022 outlines their research into tomorrow's challenges. It includes:
Organizational design and change management
Current and future leadership bench
We'll highlight some of their interesting research results later on.
What's employee feedback's role in 2022?
EngageRocket's recent report The HR 2022 Outlook states that "the onus is now on HR to stem the tide and formulate forward-looking policies that place the employees squarely at the center."
Using employee feedback to drive organization change has been shown to result in higher productivity and greater engagement. Employees are on the frontline of every business, and they know what is working and what needs to be developed in order for an organization to improve its operations.
Effectory is dedicated to helping HR make their organizations future proof by providing them with an employee feedback platform and people analytics that:
Promises top level privacy, anonymity, and security
Saves time by being easy and intuitive
Provides scientifically validated questions
Allows you to track and compare results between teams and over time
Compares results to industry benchmarks
With a comprehensive employee listening strategy in place, HR and the C-suite can make more data driven decisions and increase their employees' engagement levels. With this in place, organizations can be ready to take on everything that 2022 has in store.
HR's 5 hot topics 2022
So what hot topics are we noticing as being on the agenda over the next 12 months?
Employee retention
According to Gartner's research, 64% of HR leaders list "growing the business" as one of their top 3 priorities in 2022. This is while 48% are significantly concerned about employee turnover. Meanwhile, the Great Resignation is being talked about in major news outlets.
But an organization can't grow if it's constantly battling employee churn. This is why employee retention is so important.
To boost retention, employers will have to improve their recruitment efforts with great employer branding (by showing off their World-class Workplace label, for example), and be sure that their onboarding and exit processes work. HR needs to know about the employee experience from beginning to end so they can address recurring issues whenever they appear.
Employee wellbeing
After nearly two years of constant disruption, fatigue is a real contributing factor to employee churn and decreased engagement.
Employers need to listen to their employees and implement initiatives that help take care of employees, and these initiatives should be based on the needs that the employees themselves express. If employers want to retain their best talent and keep staff engaged and excited about their work, they can no longer afford to ignore their workforce.
DE&I
Research by Glassdoor shows that 76% of employees and job seekers say a diverse workforce is important when evaluating companies and job offers, and 37% wouldn't apply to a company that had negative satisfaction ratings among people of color.
Changing hiring processes can help with this, but so can researching just how inclusive a workplace already is. Consistently collecting feedback from a wide range of employees over a number of surveys means that policy can be based on an objective measurement rather than individual points of view.
For some companies, the journey to being a more diverse and welcoming workplace will be a marathon rather than a sprint. To make sure that the transformation goes smoothly, employers should have knowledge of where they stand today so that they can objectively measure the effectiveness of tomorrow's efforts.
HR needs more analytics
In our conversations with customers, it's often mentioned that headline rates on the Effectory platform, such as the level of employee engagement, are useful measures for stakeholders wanting to gauge the quality of an organization's management.
Ever since COVID, HR's relevancy to business development has been undeniable. Nowadays, CHROs are even sometimes part of the C-suite. But HR needs reliable data that can be compared over time in order to demonstrate the effectiveness of its initiatives, and also to show how its strategies and operations are helping its organization succeed and improve.
Skills & development
Effectory's own data shows that employees who feel that they are trained sufficiently are +27% more engaged than their undertrained peers. This is important because high engagement leads to a +38% increase in employee retention and +26% in performance.
Gartner says that since 2018, there's been an annual 6.3% increase in the skills required for roles in IT, finance and sales. But often, management don't know what skills their employees are missing.
Asking employees what skills they're missing is a vital step in identifying what competencies and skills need to be improved upon within a team or company. Often, training doesn't even need to require large amounts of capital. Peer-to-peer tutoring within a company between employees with different tasks, skillsets, and responsibilities can work just as well to make sure people have what they need in order to do their job well.
Be prepared for 2022
So that's our 5 hot topics for HR and business in 2022:
Employee retention
Employee wellbeing
DE&I
People analytics
Skills & development
COVID measures will impact these themes in various ways. For example, if an organization's hybrid working policy doesn't fully support employees when they're working from home, retention will decrease. Missing out on the office environment and being at home more may cause some employees to experience mental health issues and burnout.
Regular pulse surveys that check a workforce's temperature can mitigate these issues. With feedback, managers and HR can build policy and strategies based on the concerns, insights, and wisdom that already exist within a company. In addition, enacting policies based on feedback gives employees a sense of ownership and pride not only in their work but also in their organization as a whole.
Find out how you can be ready to tackle 2022's challenges with an employee listening strategy designed especially for your needs and goals. Speak with one of our consultants today.